Metzger Mysteries
Where was John Metzgers farm? We can, from census records, assume that Jonas had but one son and as the only son you would could assume that John inherited the farm from Jonas and that George, an oldest son, took over the farm from John. We do know that John R., the oldest son, took over the farm from his father George. George's farm was next to Emanuel Lohr's farm. Land maps (1867) show the Emanuel Lohr but not the Metzger farm. We can not find a will or land deed transfers to verify the assumptions.
Where was Jonas Metzger born? Did he have relatives in America when he arrived? There were many Metzgers immigrating at the same time as Jonas and many settled in the same area in eastern Pa. One clue is that another Metzger researcher says that a John Metzger immigrated in 1849 with his sons Jacob, Jonas, and George. Jonas Metzger, son of Jacob has on his grave an inscription in German " I am a Swab from Swabanland". Jacob's other son George, who attended Indianfields Lutherine Church at the same time as our ancestor Jonas can be traced to Steinenbronn (south of Stuttgart)Wurttemburg, Germany.
Unaccounted for Metzgers show up with Jonas's descendnts. Listed on April 6,1822 confirmations, Stoystown Lutheran Church , is Sally Metzger. She is listed next to Elizabeth Metzger. Could this be a visiting relative from back east. Jonas's uncle Casper had a son, also named Jonas, who had a daughter Sally born in 1816, the only Sally I know about. There is also an unaccounted for Joseph Metzger in the 1830 census for Somerset County. In 1830 he had one son 10-16 and two daughters 10-16. There is also a John Metzger in Napier Twp.,Bedford County,in the 1820 census and a John Metzger in Hopewell/Woodberry Twp.,Bedford County in the 1830 census.
Metzger Field at Lafayette College. A Metzger source thinks that this athletic field was named after two Drs. Metzgers from Stroudsburg who graduated from Lafayette.
Peggy Metzger has this picture of Metzger College. It was given to her husband, Edward Galen Metzger, by the Cumberland Valley Savings and Loan Assoc, of Carlisle, PA. No story came with the photograph and research has as yet to reveal any information on a Metzger College.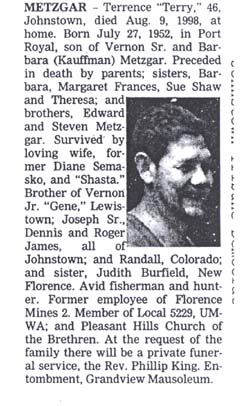 The obituary on the right appeared in the Johnstown (PA) Tribune-Democrat. The "member of the Pleasant Hills Church of the Brethren" is intriguing. From the John J. Metzgar side of the Metzger line is a Terrance, born 1894, the son of James Irvin Metzgar and a Terry Metzger (born 1952) who was a GGGrandson of John J. No Vernon Metzgar or Port Royal (Virginia?) is in the data base.